STEP 1: GET INTO OUR TEXTING COMMUNITY
If you are viewing this page from a computer, take out your cell phone and follow the instructions below.
If you have not already, on your cell phone text 'HI' to (919)-298-8080.

If you are viewing this page from a cell phone, all you have to do is click the button below.
---
STEP 2: JOIN THE CHALLENGE FACEBOOK GROUP
Each Challenge is held in a private Facebook group, so you must request to join your #crew Livingood Daily Challenge group to get started!
If you've already requested to join or are in the group, you can move to Step 3!
*PLEASE NOTE: Group acceptance can take up to 48 hours or longer if you're requesting to join more than 3 weeks before the Challenge begins.
---
STEP 3: LEARN HOW THE CHALLENGE WORKS
During weeks 1-3 of the Challenge, you will have daily teachings on one of the 4 Foundations of Real Health (shown below).
Week 1: Foods & Fitness
Week 2: Focus
Week 3: Filters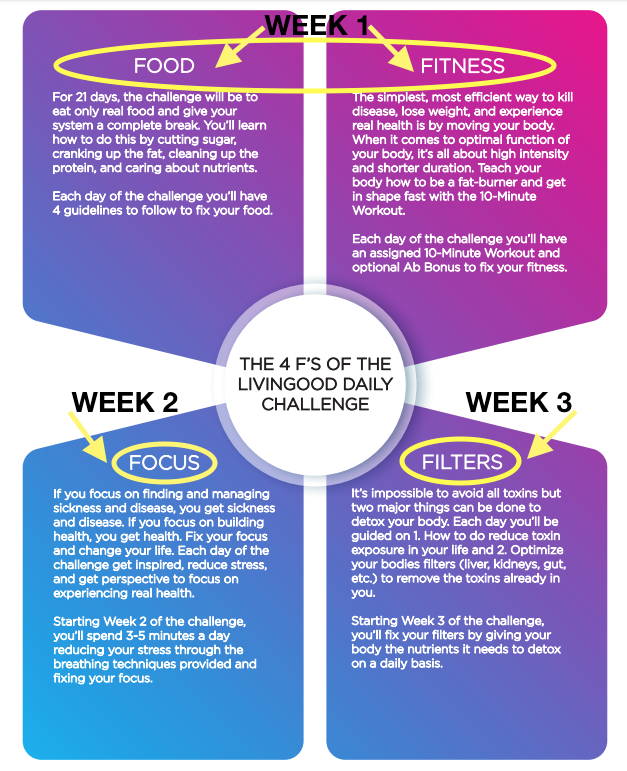 In addition to Daily Teachings & Workouts, the Livingood Daily Team is Live on Facebook 3 times a week for you to get motivated, ask questions live, and learn about health.
Below is the Weekly Routine of the entire Challenge, including when the Livingood Daily Team goes live.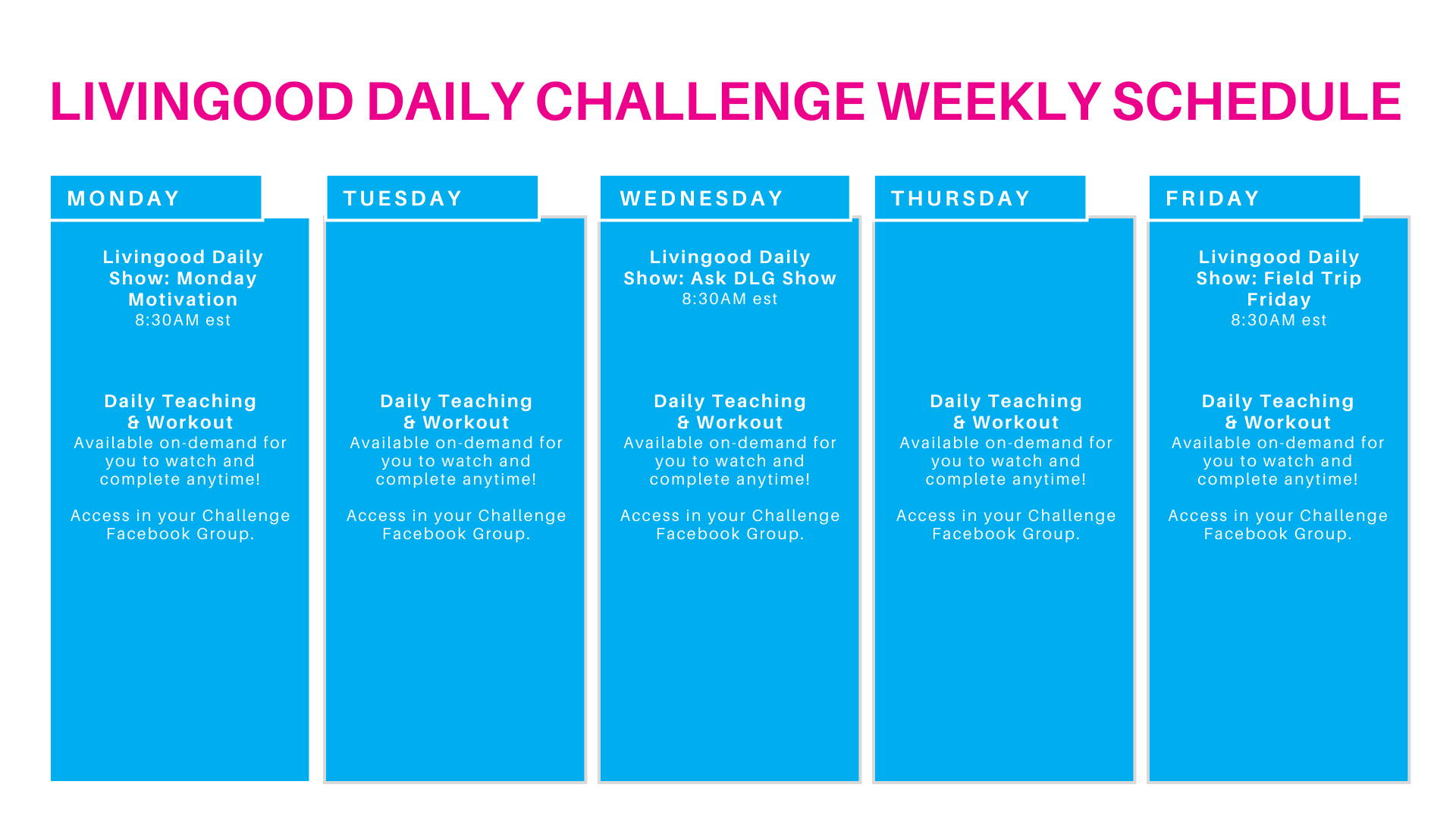 ---
STEP 4: GET NOTIFIED WHEN DR. LIVINGOOD IS LIVE!
In order to get notified of when Dr. Livingood is live, you must LIKE the Dr. Livingood Facebook Page.
Click the button below to be directed to the Dr. Livingood Facebook page. Once there, simply click the LIKE button!
(Below is an example of what it looks like to "like" the Facebook page)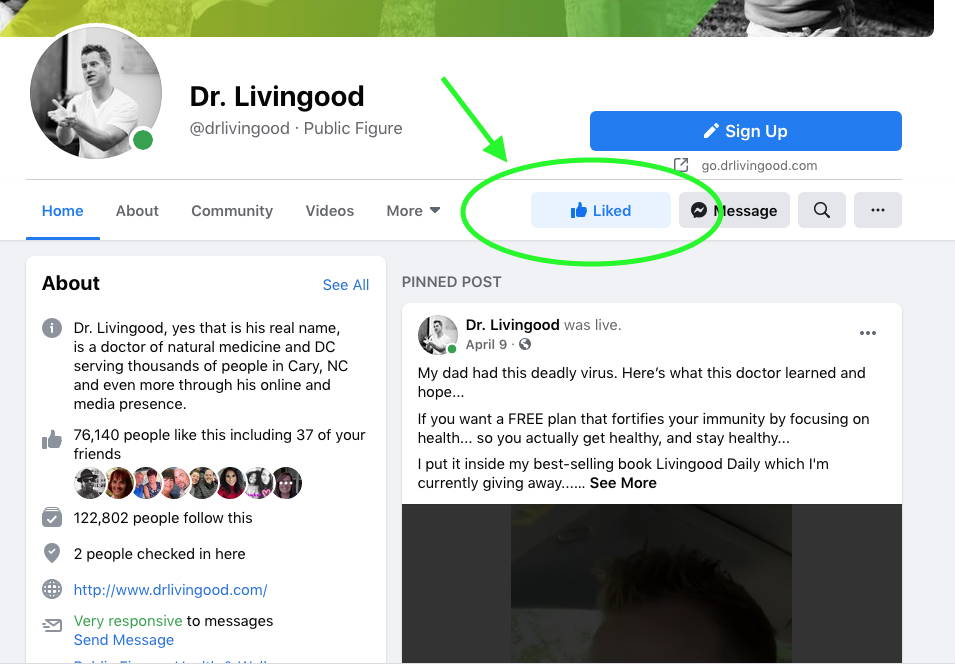 2. CHALLENGE MATERIALS [WORKBOOK, FOOD LIST, & MORE]
---
GET YOUR CHALLENGE WORKBOOK & OTHER IMPORTANT DOWNLOADS
In order to succeed, you need a guide. Your Challenge Workbook contains the Challenge basics, meal plan, recipes, and daily journal pages to ensure you experience daily success.
We also provide you with an additional vegan meal plan, grocery shopping list for the Challenge Workbook meal plan, and more downloads.
Just click the names below and you'll be able to download and print!
If you want a hardcopy of the Challenge Workbook, click the button below, all you pay is for shipping!
3. HOW TO USE THE CHALLENGE FACEBOOK GROUP
Knowing how to navigate the Challenge Facebook group is key for success!
See below the Facebook group menu options that we utilize.
Announcements
Announcements are where each current day's teaching & workout are housed, as well as any other important posts.
(desktop view of Announcements)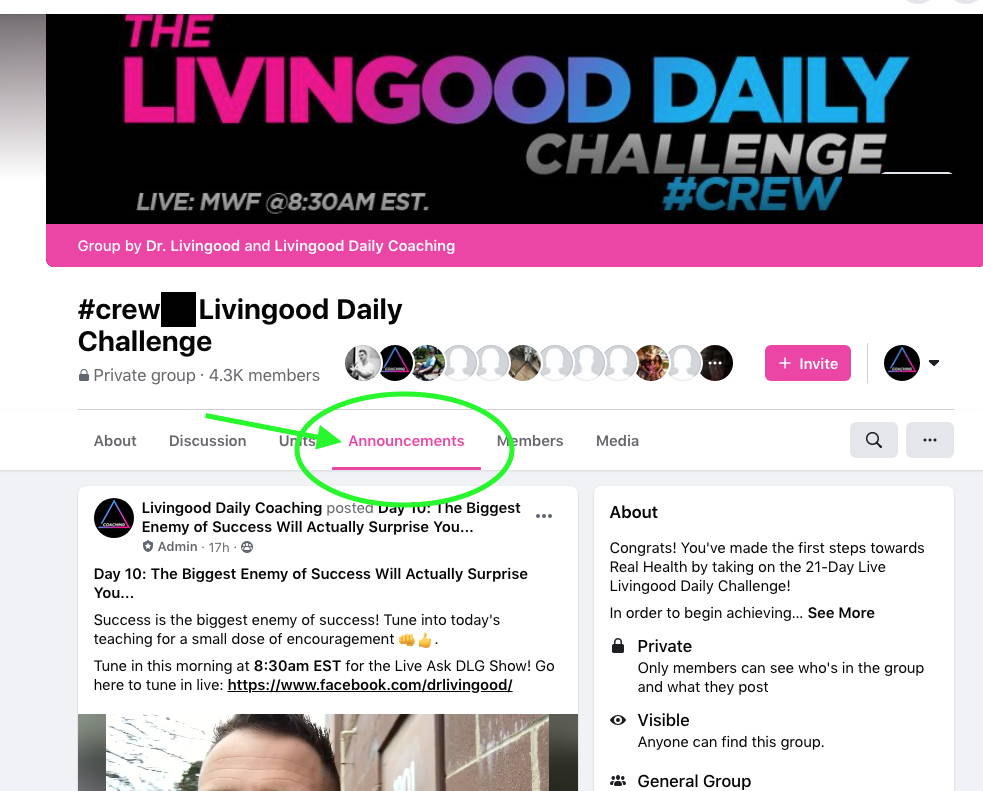 (Mobile view of Announcements)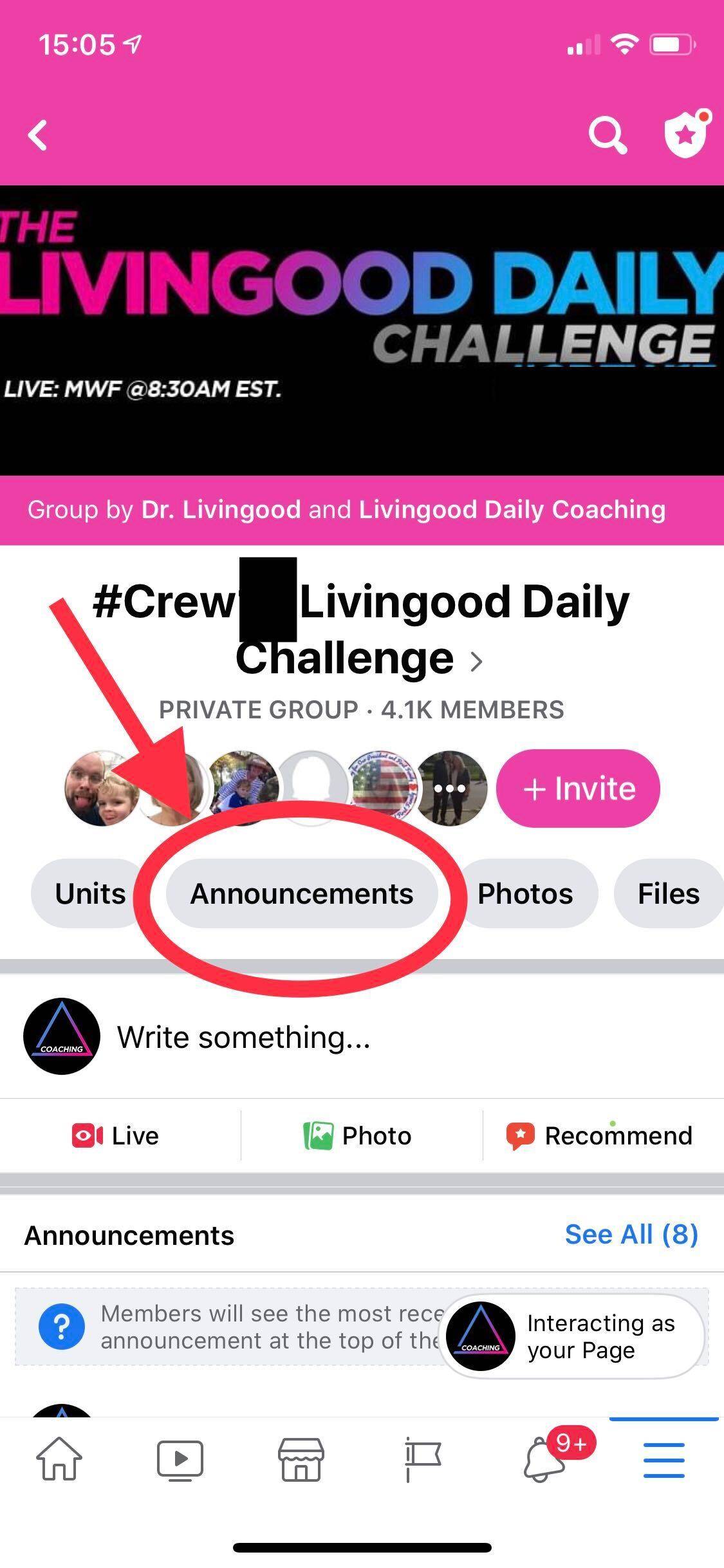 Units
Units are where we keep all previous & current daily teaching & workout posts. If you fall behind, head to Units to find previous days.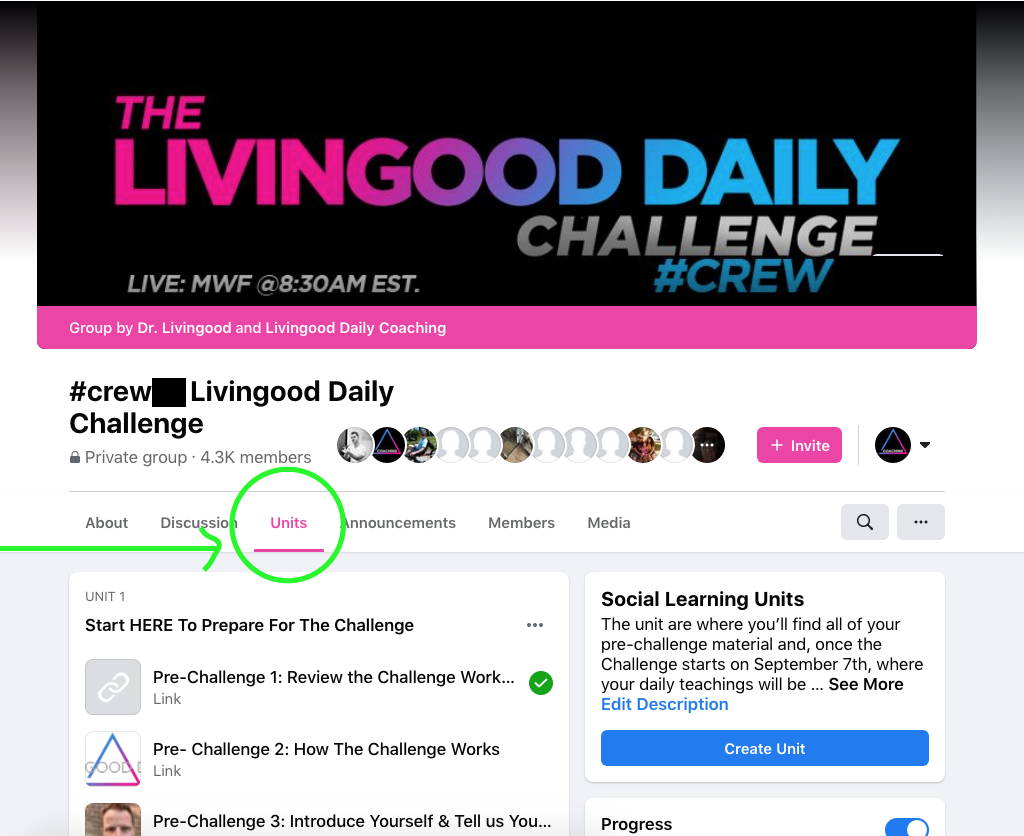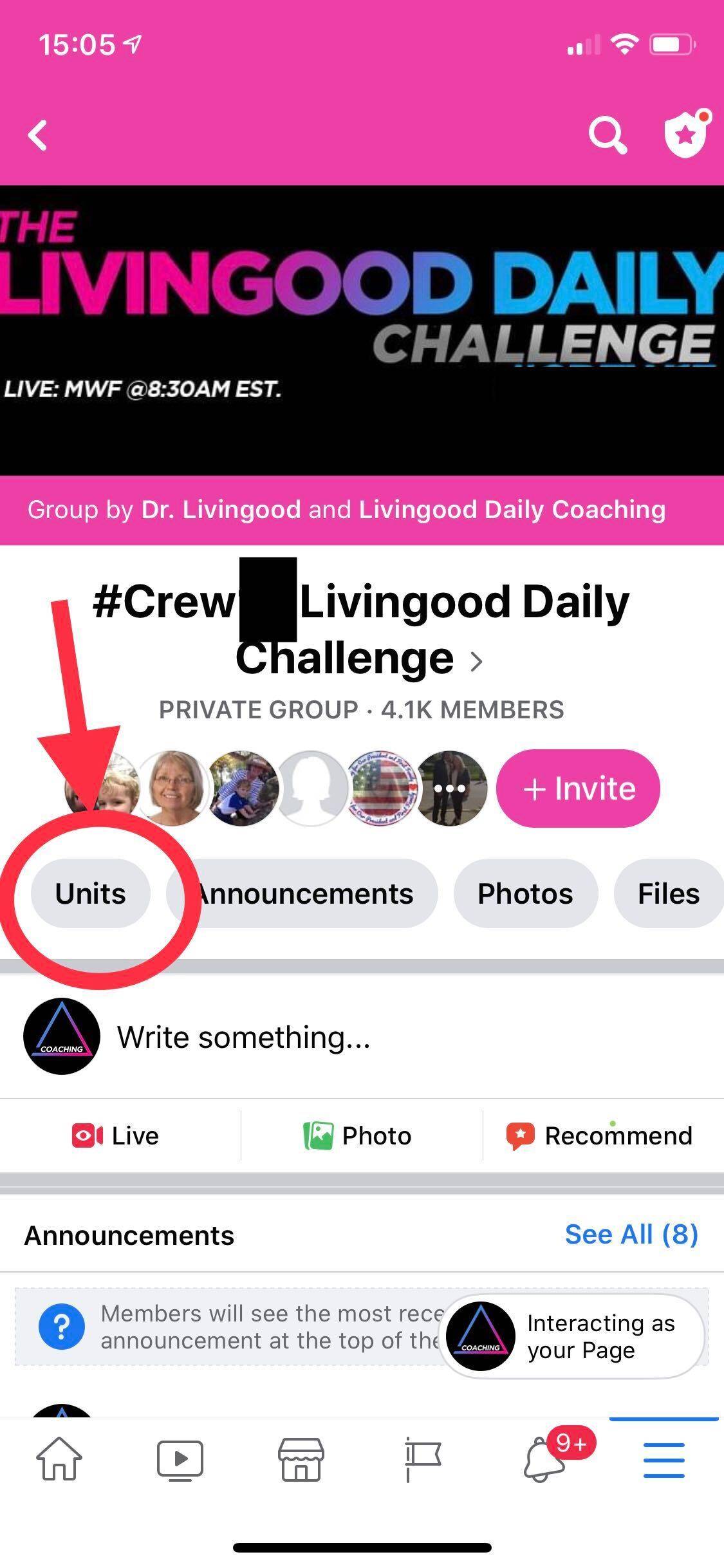 Notifications
To get notified of when the Livingood Daily Team posts or when there is a reply to your post, turn on Notifications for the group.
(desktop view of Notifications)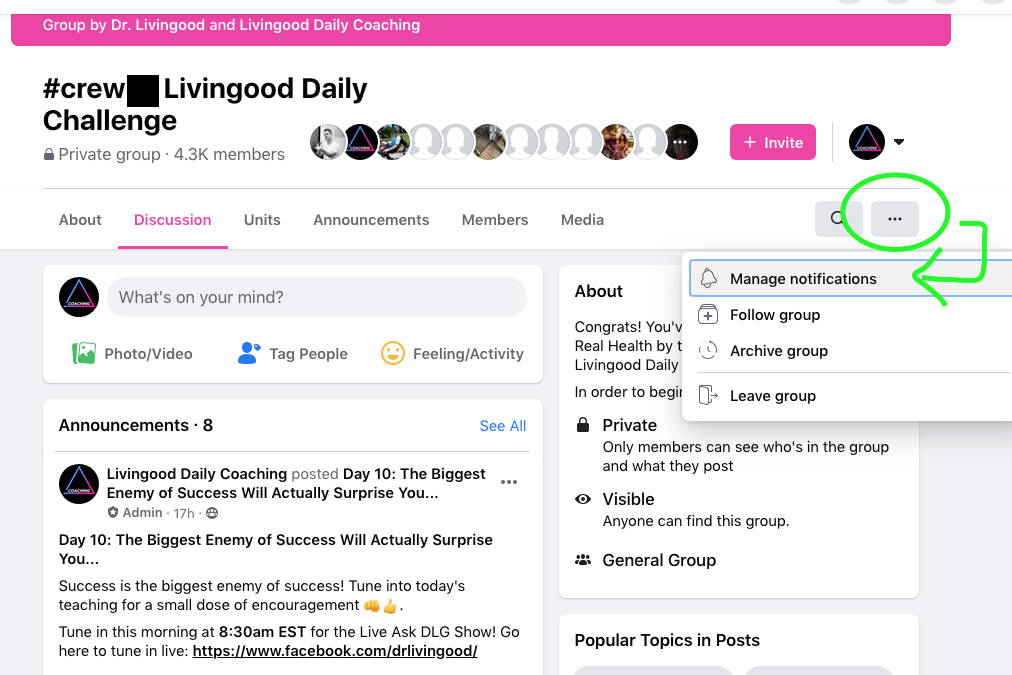 (Mobile view of Notifications)
Popular Topics/Topics
Missed a Live show and want to catch up? Go to the Popular Topics/Topics tab to view all previously recorded Lives by the Livingood Daily Team.
(desktop view of Popular Topics)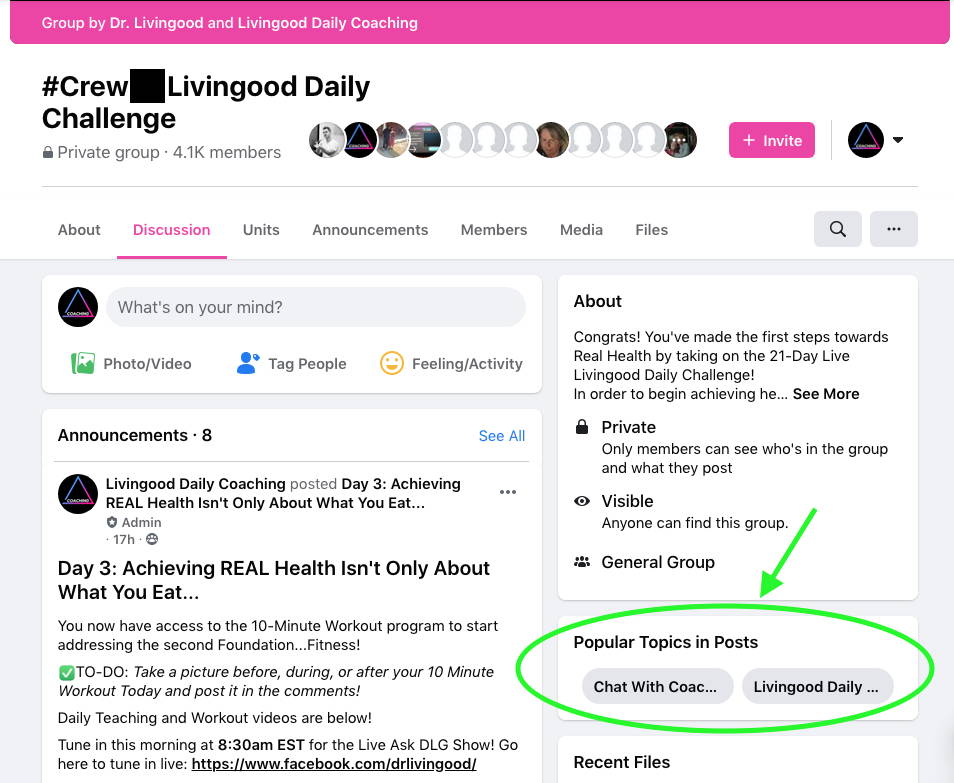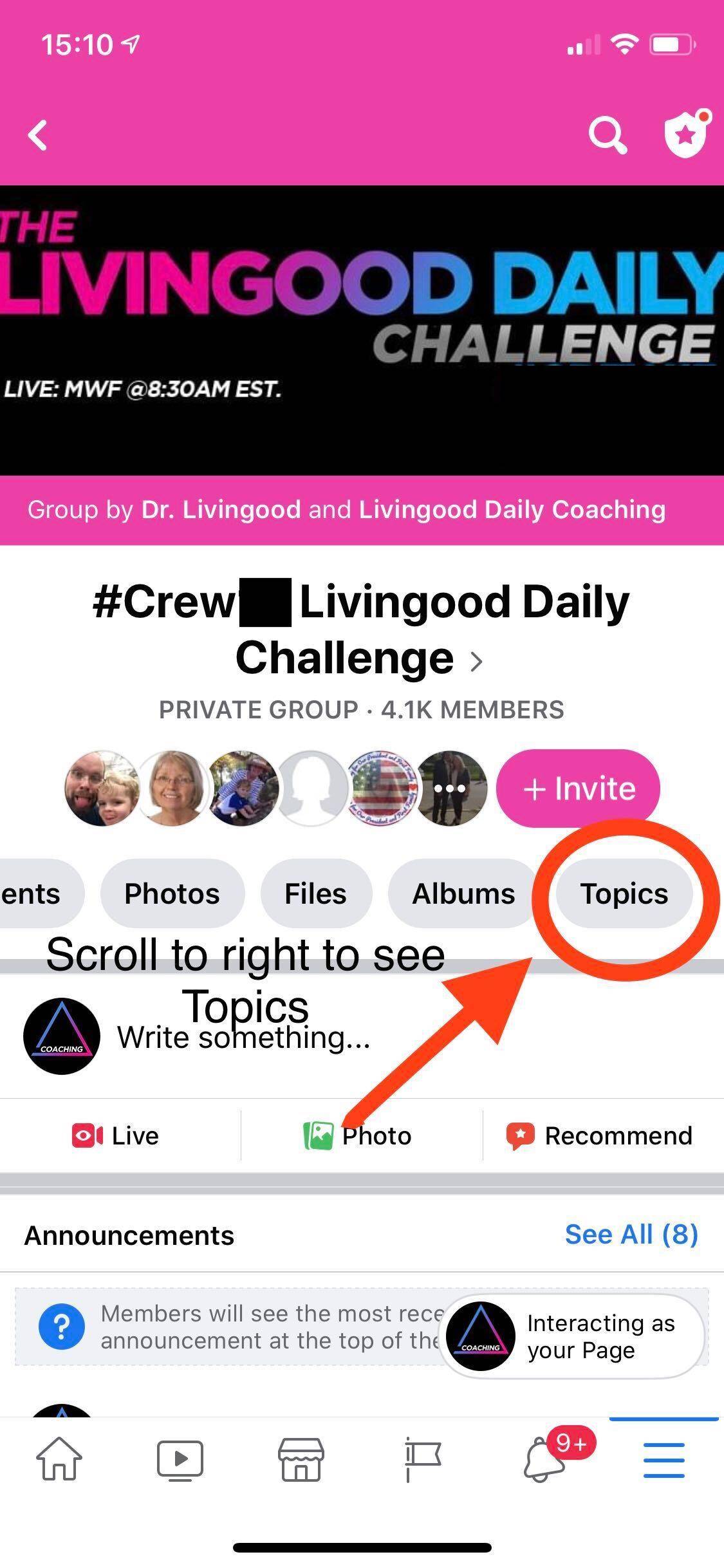 ---
4. HOW TO REACH US, SUPPLEMENTS, & FREE PARTNER LINKS
HOW TO REACH THE COACHING TEAM & GET ANSWERS
If you have a question that you'd like to be answered by the Coaching Team or Doctor, you simply need to include ONE of the following keywords in your post in the Challenge Facebook group:
Coach

DLG

Dr Livingood

Question
---
We have found the 4 most common struggles people encounter when trying to overhaul their health:
1. CONVENIENCE: Making breakfast sugar free and easy.
2. SNACKING: How to suffice cravings for snacks and desserts in a healthy way.
3. REBOUNDING: Many lose weight but never deal with toxicity to keep the weight off.
4. NUTRIENTS: Getting enough green food and nutrients without just eating boring rabbit food all-day.
Those struggle are exactly why we created the Build Your Own Challenge Pack. What we found is 3 supplements and 5 guides make a substantial impact on Challenge results. They aren't required for success but they sure make things a lot easier!
---
BRING SOMEONE ALONG FOR FREE!
As a participant of this Challenge, we are assigning you as part of the Mission to help people to stop experiencing sick care and to start experiencing REAL Health. Watch the video below then proceed to adding your free partner :)
*In an effort to spread real health, we only allow the same person to use a free ticket once.
THE DEADLINE TO SIGN-UP YOUR FREE PARTNER IS THE SUNDAY BEFORE DAY 1 AT 11:59PM EST
CHALLENGE NUTRITION & DIET FAQs
Do I need to follow the meal plan exactly?
No! Mix it up, remove recipes, replace recipes, do whatever! As long as you follow the dietary guidelines, you have free range.
What Meal Plan options do I have?
We provide you with a standard meal plan, advanced meal plan, and vegan meal plan. If you're a member of the Livingood Daily Lifestyle, in your member's area you have access to several seasonal and bonus meal plans that are all Challenge approved!
How much is a serving of fat, protein, and veggies?
1 serving of fat = 1 tbsp (oil/butter), 1-2oz nuts, 1/3 med avocado
1 serving of protein = 3oz (size of a deck of cards)
1 serving of veggies = 1 cup (leafy greens), 1/2 cup (all others)
---
How much water should I drink daily?What counts towards my daily water?
Aim to drink 1/2 your body weight in oz of water each day. Work your way up to it if you're new to drinking that amount!
Plain water, naturally infused water (lemon, lime, berry), Livingood Daily Greens in water, Collagen in water, Energyze or Vitaminc C powder in water, decaffeinated teas, or sparkling water all count towards your daily water intake.
We don't recommend a specific caloric goal as it varies person-to-person.
Instead, focus on "intuitive eating". Eat to satiety and eat slowly. Enjoy real food!
Do I need to eat 3 meals a day?
Nope!
If you've been intermittent fasting and love it, keep that up! If you normally eat 6 small meals a day and it is working, keep doing that.
CHALLENGE FITNESS & EXERCISE FAQs
How many days per week should I workout?
You should workout as many days per week as you can commit to. If you're brand new to working out, a schedule of 3-4 times a week, every other day is a great start. If you're a Challenge pro, aim for 7 days a week, and maybe even 2 workouts a day!
What time of day is best to workout?
The best time of day to workout is the time you'll get it done! Try to pick a consistent time of day to get into a routine, but morning or evening doesn't make a difference, just be sure you're getting up a moving!
I can't do the 10-Minute Workouts...What should I do?
The goal is to move your body, in anyway. If you can walk or jog, do a 10-Minute Workout style walk:
Warm-up walk for 2-3 mins, then walk/jog for :50 as fast as you can, resting/slow walking for :10. Repeat 10 times!
---
I can't get on the floor for the abs...
Try the exercises seated in a chair, the bed, or on the couch!
I have an injury and cannot do some of the exercises...What should I do?
Modify or swap that move out for one you know you can do. Listen to you body, and never push through something if it elicits pain!
I'm so sore! Do I rest or push through it?
Take a rest day. Rest is just as important as work, so don't forget to allow your body to recover. On your rest day you can go on a leisurely 20 min walk, take an epsom salt bath before bed, and/or take omegas to help reduce inflammation.