Livingood Daily Goods Bar
Have Your Cake Brownie And Eat It Too!
Introducing one of our most unique and most delicious Livingood Daily Supplements yet. Formulated to nourish your entire body with all-natural ingredients and taste amazing at the same time. We know that it's probably not the best idea to eat a brownie everyday but they're soooo good right!? They're loaded with sugar, artificial and inflammatory ingredients that can cause health complications over time. Well we wanted to be able to eat a brownie everyday that does the opposite by building health instead of destroying it. So thats why we formulated the Livingood Daily Goods Bar!
The Livingood Daily Goods Bar comes equipped with powerful & all-natural ingredients that have been shown to help build and support a healthy lifestyle so you can live good daily even while enjoying your daily brownie! 😉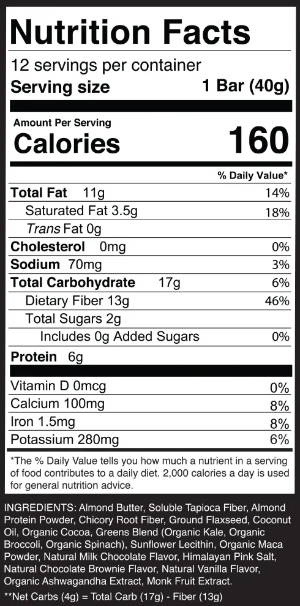 Natural & Powerful Ingredients
The Goods Bar by Livingood Daily is the best of both worlds. A true product of the phrase " You can have your cake brownie and eat it too!" Containing a full serving of vegetables in each bar, himalayan sea salt, coconut oil, flax seed, the antioxidant; cocoa, plus the cortisol and mood support from ashwagandha, and hormone support from maca root.
The Livingood Daily Goods Bar is filled with powerful natural ingredients that don't only taste delicious, but also help support stress and hormones. Plus with its full serving of vegetables, you are getting a large amount of nutrients from a candy bar!
Research has shown that the Ashwagandha Root could potentially aid in stress relief and reduction of an anxious mood.
Hawthorn is an ace inhibitor, beta blocker, and calcium channel blocker all in one! This botanical if full of bioflavonoids, which are phenol parts of plants that contain powerful medicinal properties. It makes a significant impact when it comes to lowering your blood pressure and it impacts your triglycerides & cholesterol as well.
Maca Root is highly nutritious with only 28g containing about 133% of your daily dose of Vitamin C. Maca Root has also been shown to support a healthy hormone balance in males and females.
Pomegranate is super high in tannins and can lower your cholesterol up to 36% on your LDL and lower your blood pressure by 5%. Just eating a natural fruit can rival some top medications that are out there.
Flax Seeds are loaded with nutrients and are rich with dietary fiber. They also have been shown to curb hunger which could aid in weight loss.
Taurine is a natural diuretic and ace inhibitor. It contains high amounts of sulfur, which is like a battery charger for your body. It fires your cells back up and forces the toxins out of your body.
Coconut Oil contains healthy fatty acids that can help boost your metabolism and encourage your body to burn fat. It also contains MCT's which can aid in healthy brain function.
Most Americans are deficient in magnesium. It increases nitric oxide in the body which lowers blood pressure and relaxes your muscles (even the heart, which is the most important muscle in the body). A 400mg dose per day can actually lower your top BP # by 5-6 points and your bottom # by 2-3 points.
Chicory Root acts as a prebiotic which feeds good bacteria in your gut. This good bacteria help reduce inflammation, fight harmful bacteria, and improve mineral absorption.
This is THE antioxidant of antioxidants! It optimizes the "street sweepers" of your body, like glutathione, and sucks up toxins that are causing damage to your blood vessels which will lower your blood pressure.
The Livingood Daily Goods Bar is a brownie you can feel good about eating for its powerful
and natural ingredients that serve your stress levels, hormones, and metabolism.

Have 1 Livingood Daily Goods Bar a day to help curb hunger, relieve stress, and get essential nutrients in from its full serving of vegetables.

To get the most out of Livingood Daily Goods Bars, always keep on handy as a snack for whenever you're feeling hungry. You can curb your hunger with the healthy fats found in each bar.

Pair your Livingood Daily Goods Bars with Livingood Daily Collagen Protein powder that can be added to a tasty morning smoothie to help kick-start your day.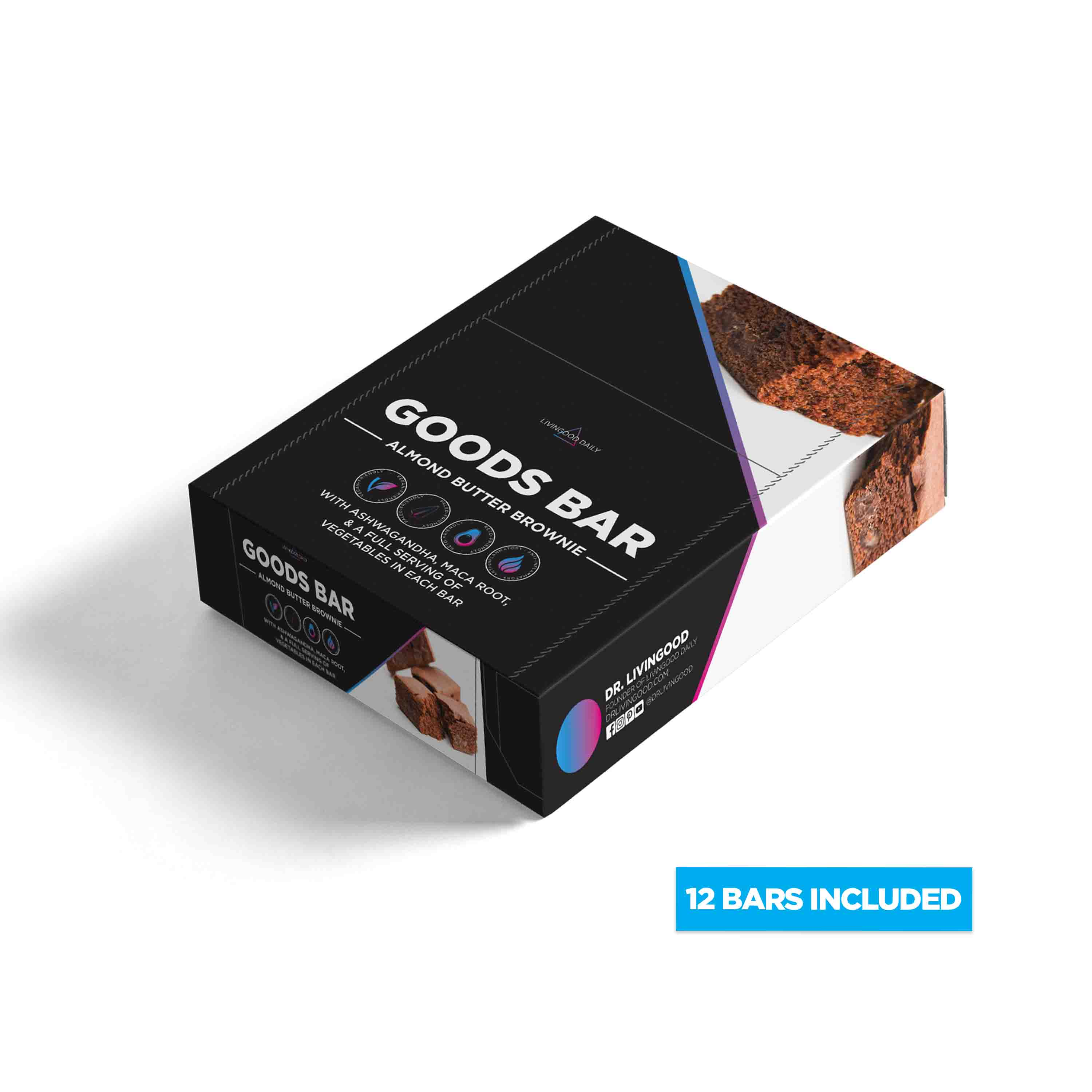 Livingood Daily Goods Bar 1-Box
Or Subscribe & Save 15% On Every Order!
---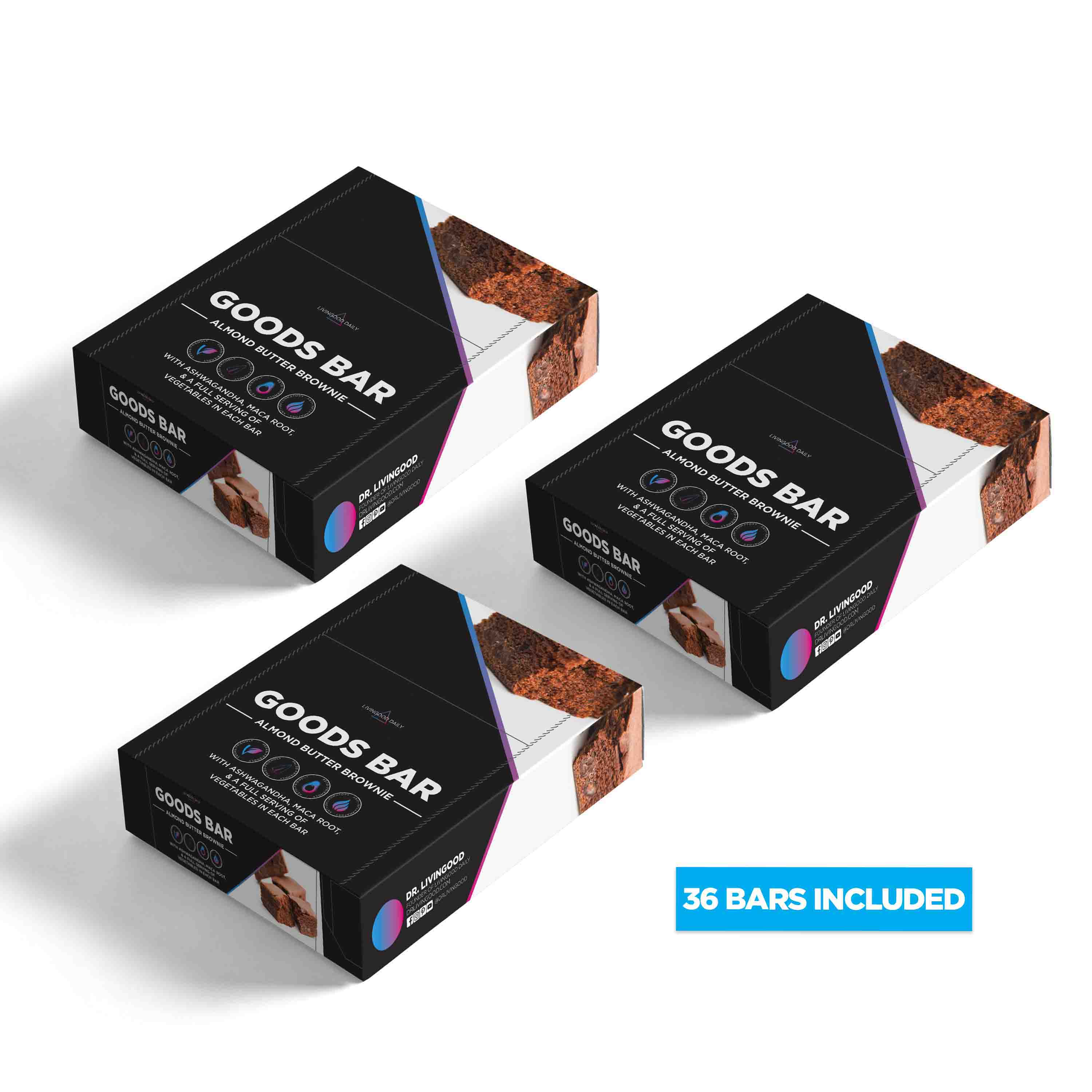 Livingood Daily Goods Bar 3-Boxes
---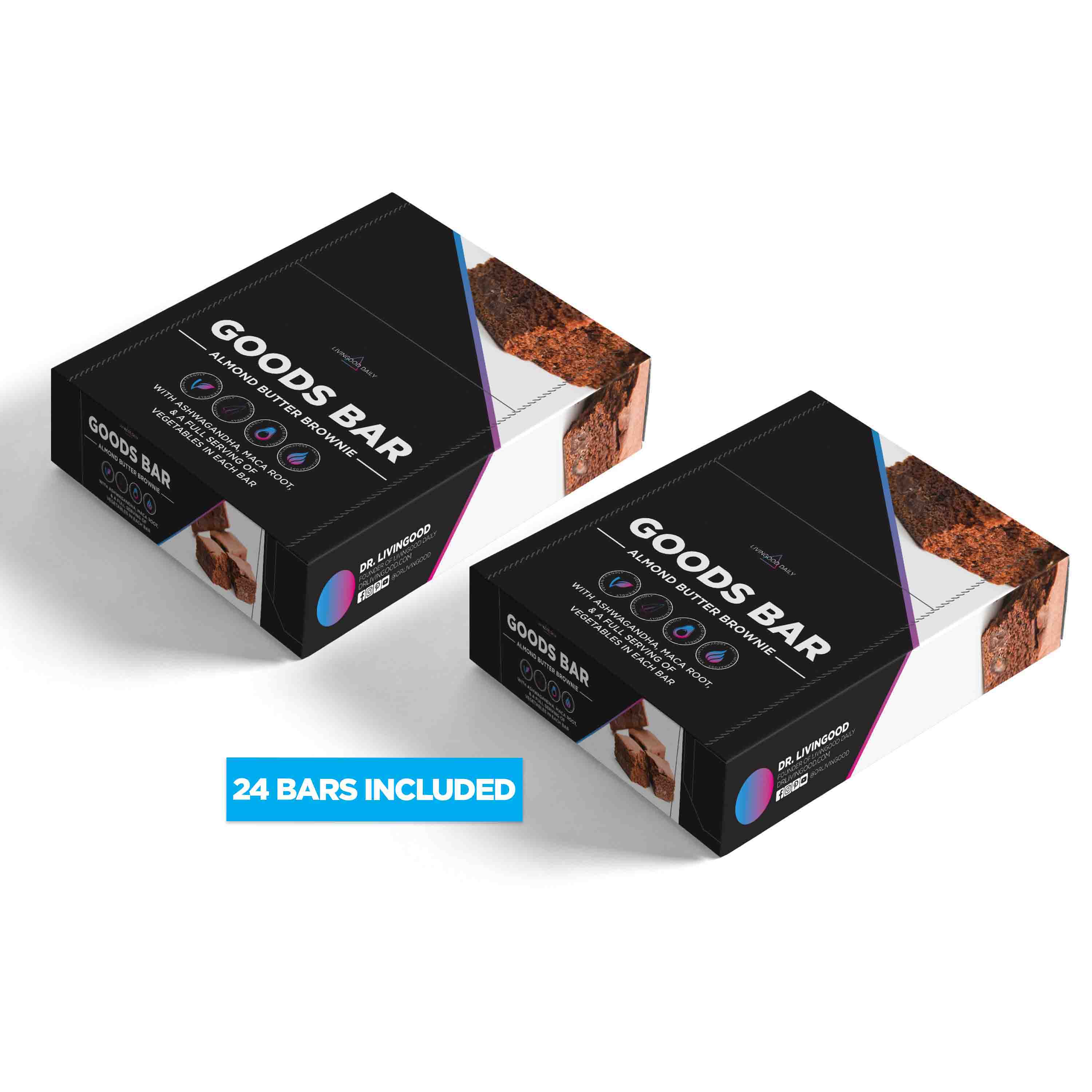 Livingood Daily Goods Bar 2-Boxes
Frequently Asked Questions
Every ingredient is all-natural, Non-GMO, gluten, and pesticide free and we used mostly organic ingredients including organic ashwagandha, organic maca root, organic cocoa, organic kale, organic spinach, and organic broccoli.
Lots of bars are unhealthy or full of sugar how are yours different?
Livingood Daily Goods Bars contain only natural ingredients to help support healthy hormone levels, decrease stress, and nourish your body with a full serving of vegetables.
Sugar alcohols are "sweet" carbohydrates that are similar to sugar but without the negative health impact. They cause very little to no impact on blood sugar levels.
Each Livingood Daily Goods Bar contains only 4g net carbs. This is calculated by taking the total number of carbs subtracted by dietary fiber and sugar alcohols. These forms of carbs are thought to have minimal impact on blood sugar levels.
Does the bar contain sugar?
Each bar contains only 2g of sugar that comes from the all-natural almond butter used in each bar.
Will the bars melt when delivered in the summer?
Bars of this type and consistency (like any candy bar or healthy chocolate bar) are sensitive to heat. We recommend shipping them to a climate controlled location like a PO Box or work address to avoid prolonged exposure to heat. The good news is while the summer heat may affect the bars shape, the taste and nutrition will be protected and still deliver the goods! Simply refrigerate them upon delivery to regain their consistency.