Watch this welcome video then follow the steps below!
---
Step 1: Join The Livingood Daily Text Community
If you are viewing this page from a computer, take out your cell phone and follow the instructions below.
If you have not already, on your cell phone text 'HI' to (919)-298-8080.

If you are viewing this page from a cell phone, all you have to do is click the button below.
Step 2: Join The Challenge Group
If you have not yet, click below to request to join the Livingood Daily Challenge private Facebook group!
*Group acceptance can take up to 48 hours*
Please note, if you click the below button AFTER day 1 of your Challenge, you will be redirected to the next Crew group and will be declined.
To get directed to the correct group, click the link in your Day 1 Challenge email.
Step 3: Start Preparing For The Challenge with Units
The Units are where we house everything you'll need to prep for the Challenge. Units are also where your Daily Teachings & Workouts will be saved for viewing!
Go to the Units tab and start working through units 1 & 2. This will help you prepare for the challenge. Units 3-7 will remain empty until we start day 1.
Below are screen views of where to find the Units in your Challenge group.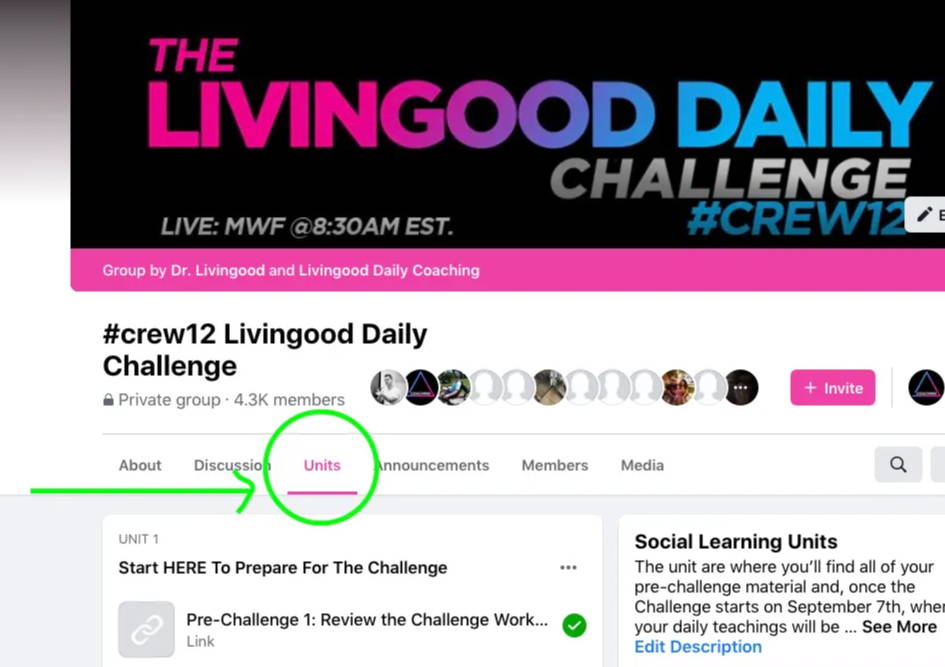 (Mobile View of Units)
*Accessing Facebook through the App is the most user-friendly way to get around the group.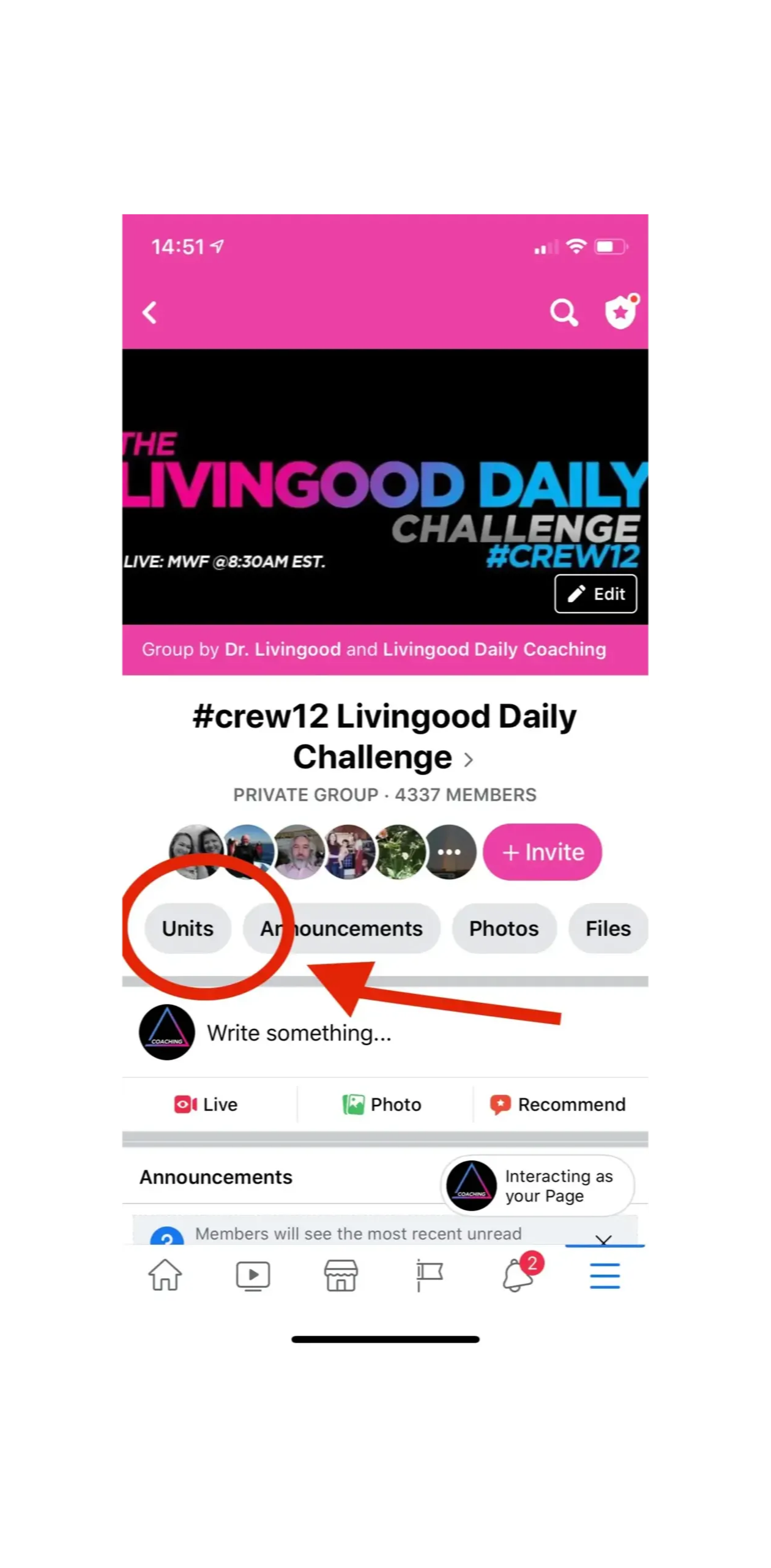 Step 4: Get To Know The Weekly Routine

Dr. Livingood & the Coaching Team are live 4 times a week during the Challenge. If you cannot catch them live, you can always tune in later after it is posted. (See below to learn how with "Topics")
Separate from the Lives, the Daily Teachings & Workouts are available all day long to be viewed and completed "on-demand".
Below is the weekly schedule:
The Popular Topics/Topics tab is where you can find all previously recorded Lives:
Livingood Daily Show
Ask DLG Show
Filed Trip Friday
Chat with Coach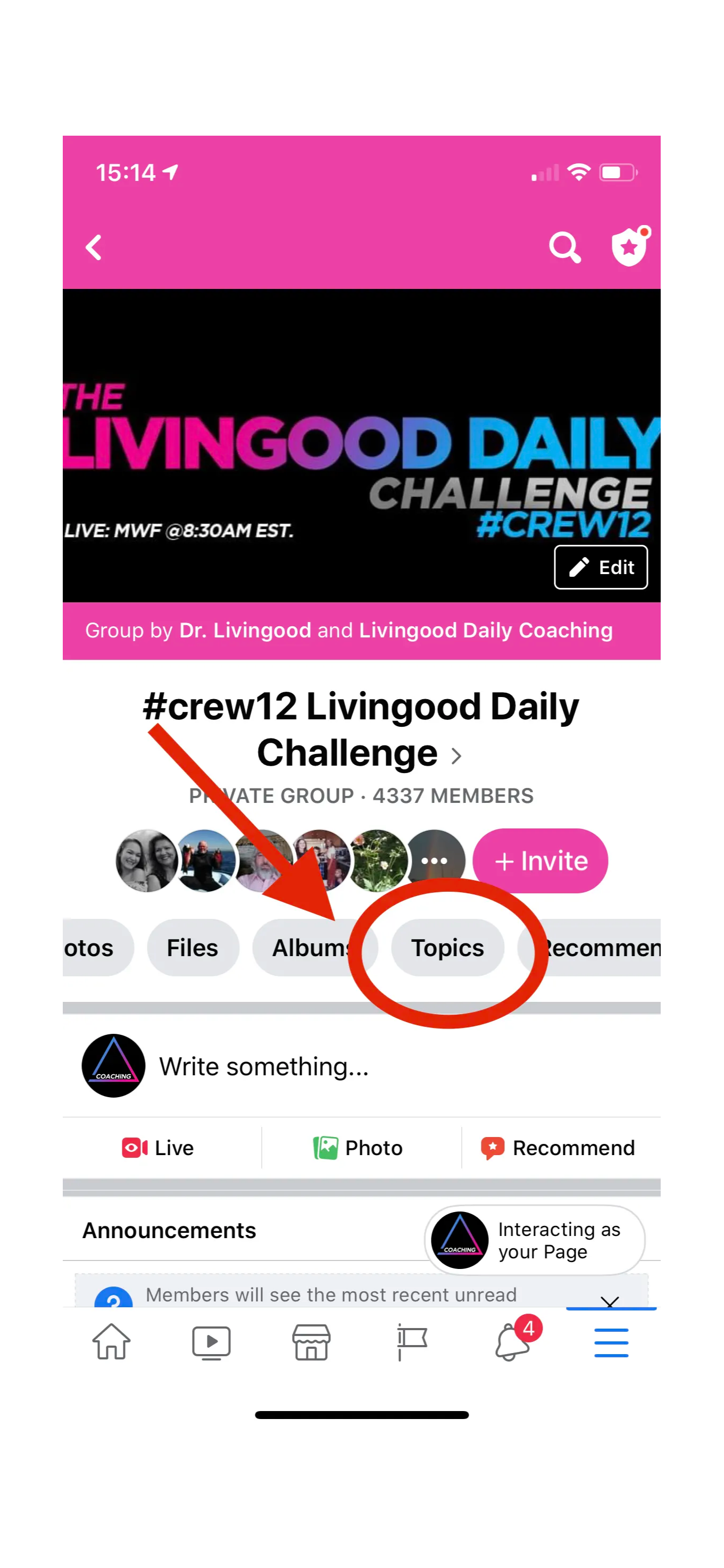 (Desktop View of Post Topics)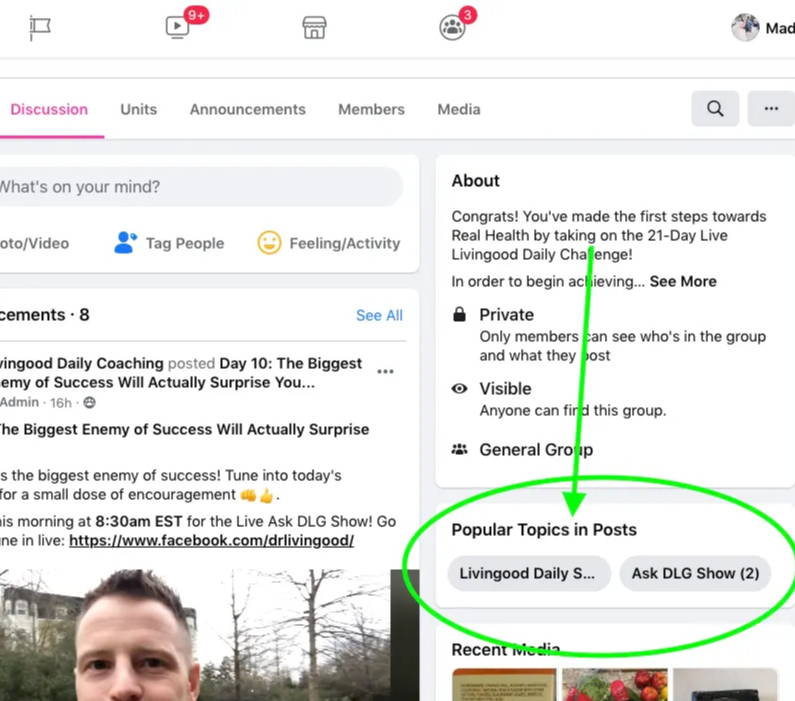 Step 5: Turn On Notifications
If you want to stay in the "know" with your Challenge group, turn on all post notifications!
(How to turn on Notifications on Desktop)
(How to turn on Notifications on Mobile)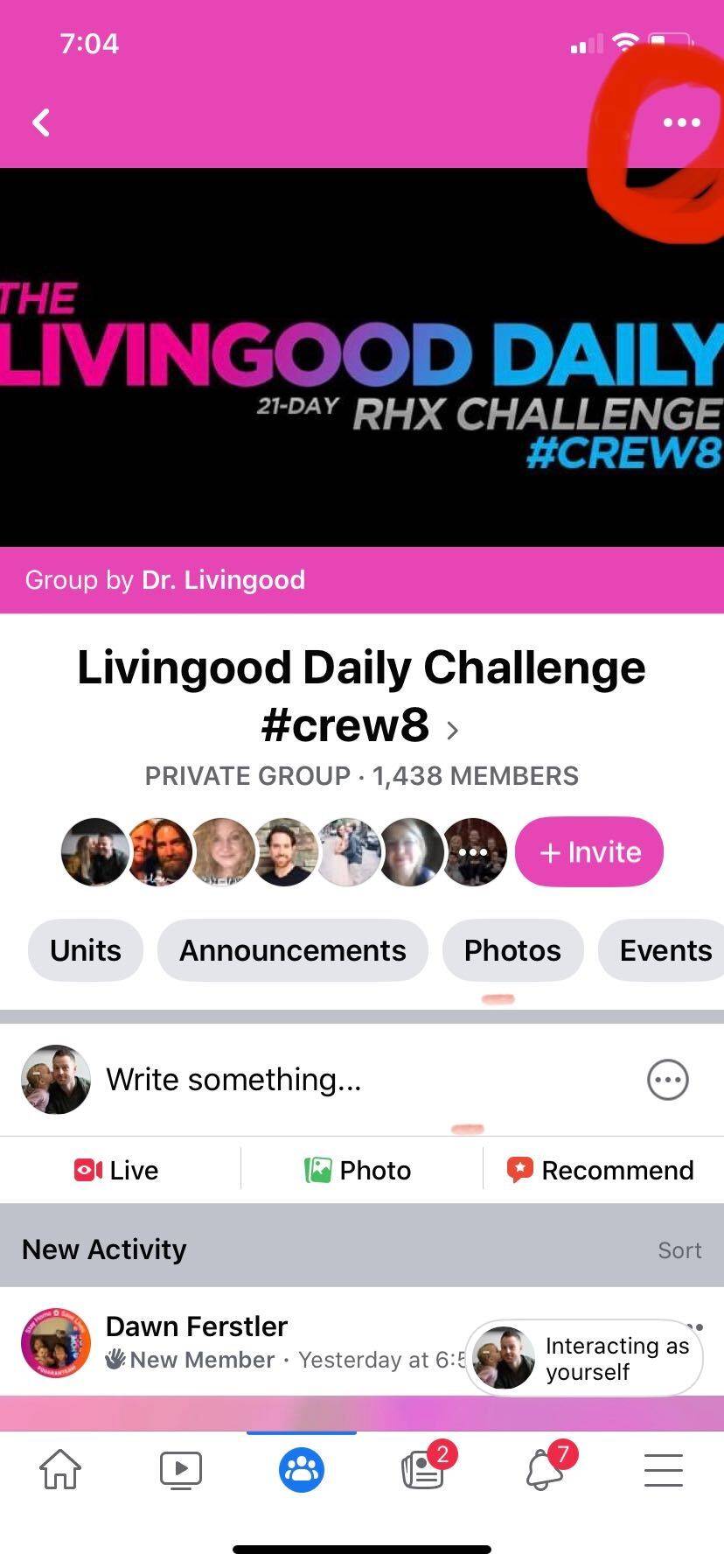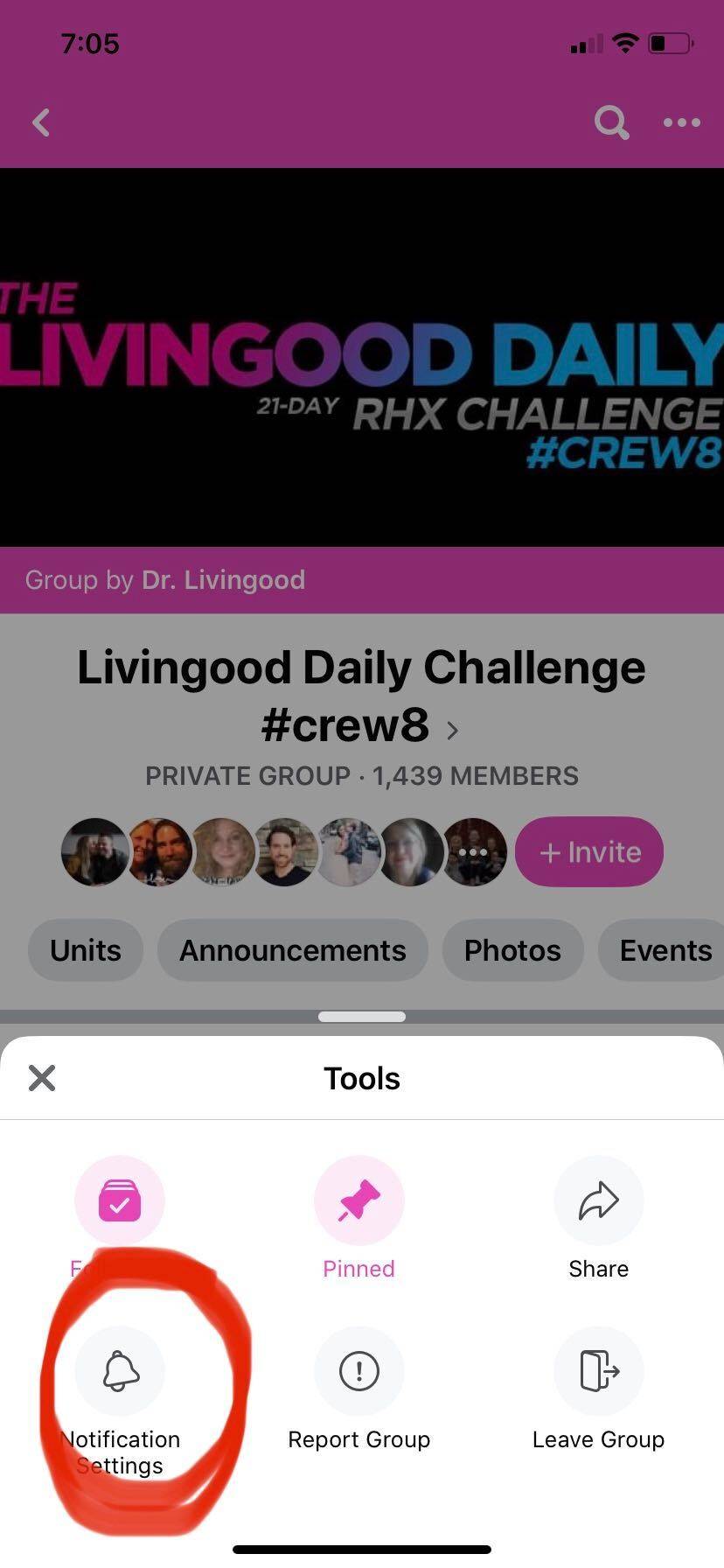 Step 6: Learn About Group Announcements
Once the Livingood Daily Challenge begins and throughout, each day's Daily Teaching and Workout are housed under the Announcements tab.
See the images below to learn what the Announcements tab is and how to access it.
(Desktop View of where to find Announcements)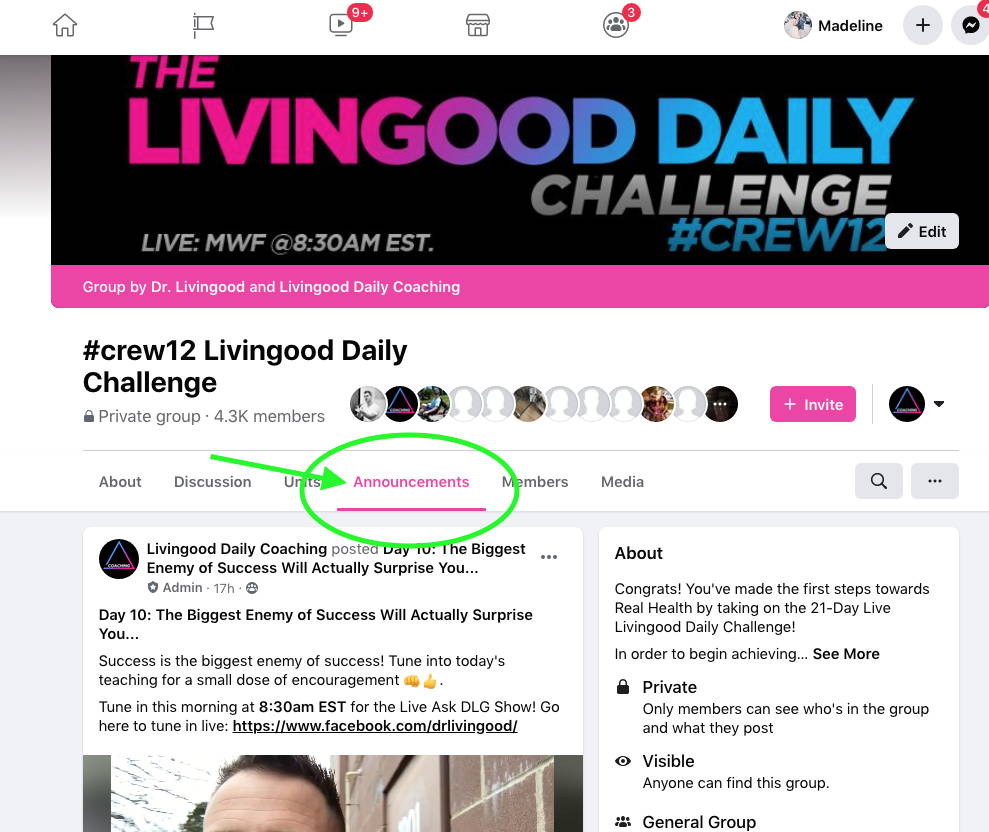 (Mobile view of where to find Announcements)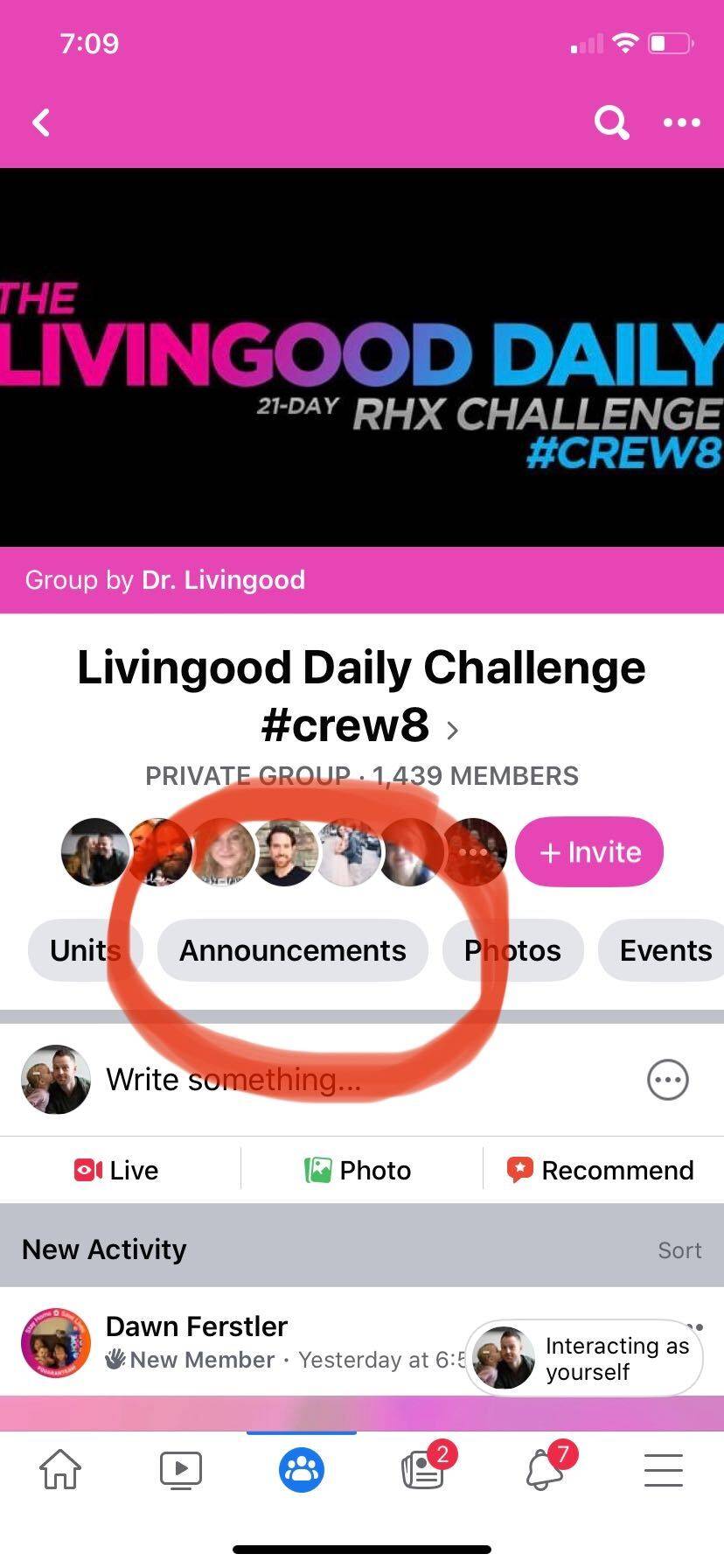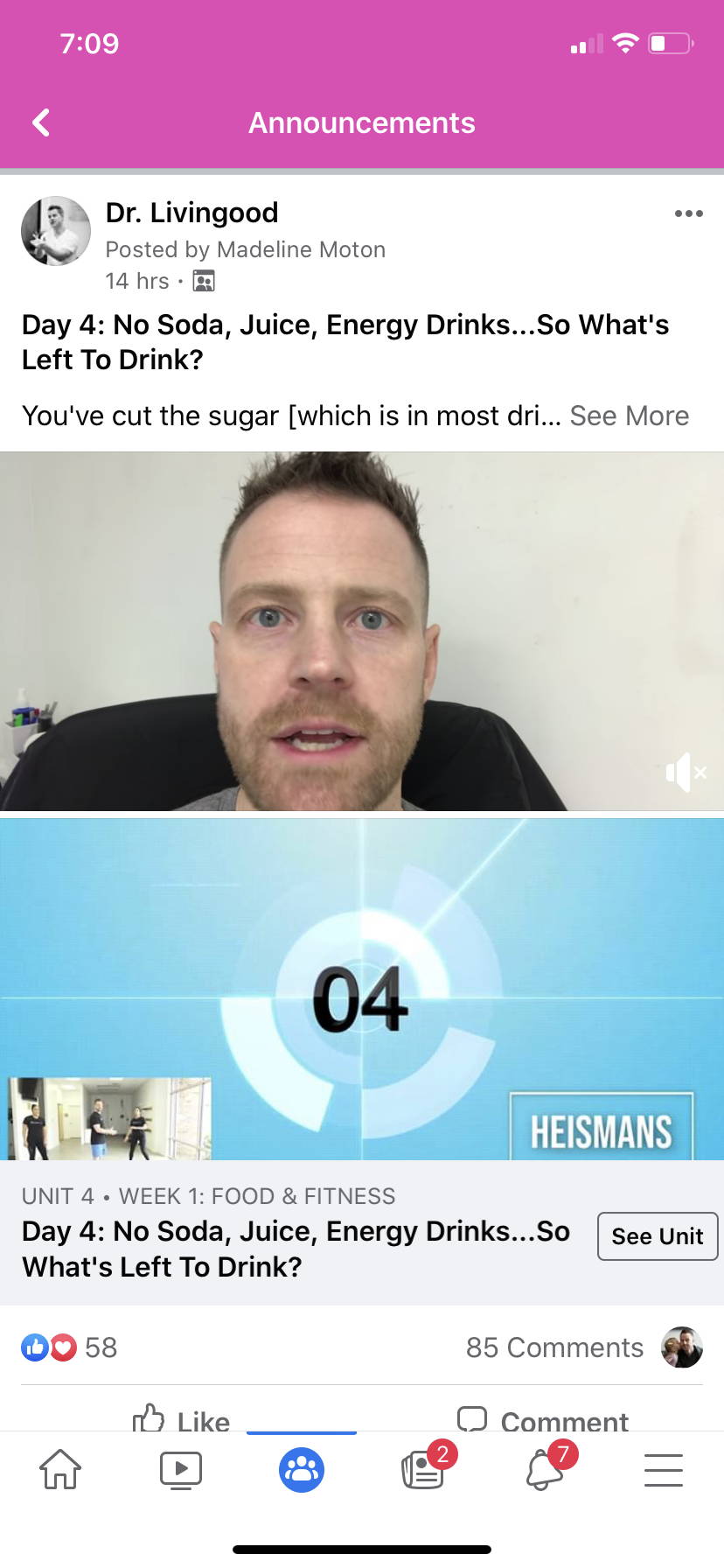 Step 7: Like & Follow The Dr. Livingood Facebook Page

In order to get notified when Dr. Livingood goes LIVE, all you need to do is "like" and "follow" the Dr. Livingood Facebook Page!
Step 8: Set Yourself Up For More Success

Here are the 4 most common struggles people changing their health have:

1. CONVENIENCE: Making breakfast sugar free and easy.
2. SNACKING: How to suffice cravings for snacks and desserts in a healthy way.
3. REBOUNDING: Many lose weight but never deal with toxicity to keep the weight off.
4. NUTRIENTS: Getting enough green food and nutrients without just eating boring rabbit food all-day.
That is exactly why we created the Build Your Own Challenge Pack. What we found is 3 supplements and 5 guides make a substantial impact on Challenge results. They aren't required but they sure make things a lot easier!