chevron_left

Back to Success Stories
I'm 60 Years Old And I Refuse To Get Stagnant!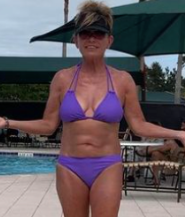 After
---
Weight Loss
Motivated
---
I've never shared any pics so far, so here goes! I'm from Crew 28 and have made DLG my lifestyle. Of course l've had some cheat days like when I just went to Florida, but I'm totally happy with my gains and losses. I'm 60 yrs old and I refuse to get stagnant! 1% when you're spent and give all you can when ever you can. Listen to DLG he knows, really appreciate him, Nurse Livingood and the coaches!

Tina U.